---

---
| | | | | |
| --- | --- | --- | --- | --- |
| | | | | |
| | | | | |
| Sayoc Fighting System in Canada | | | Alberta Sayoc Kali | | | Atienza Kali in Canada |
| | | | | |
---
FOR LATEST UPDATES AND NEWS ON OUR PROGRAMS PLEASE CHECK FACEBOOK:
---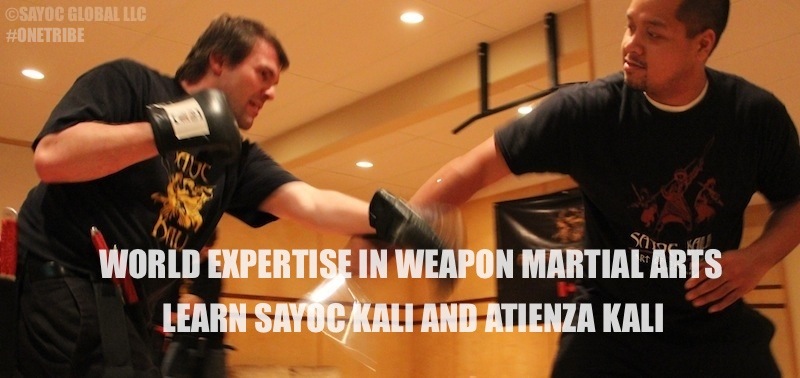 Tuhon Jimmie Sayoc and Guro Peter Kobos private training free flow in ©Sayoc Kali edged weapon tactics with gloves as training modifier
---
APPLY NOW TO RESERVE A PLACE:

---

JANUARY 2018
Sayoc Kali and Atienza Kali
Weapon Filipino Martial Art Training
---

Art of the Blade
Learn Sayoc Kali [www.sayoc.com] and Atienza Kali [www.atienzakali.com] weapon based Filipino martial arts as featured regularly on NCIS: LA and exclusively trained by today's elite warriors from law enforcement to military.
The only school in Western Canada.
Regular classes offered in Edmonton, Alberta:


---
Sayoc Kali and Atienza Kali (ADULT CLASSES)

---
REGISTRATION 2018:
---
REGISTRATION starting MON 8 JAN 2018 and open every class thereafter

To register show up 10 min. before class starts.

---
---
REGULAR CLASSES:
---
Mondays, starts at 8:30pm @ Tipaskin School (1200 Lakewood Rd N)
Fridays, starts at 8:00pm @ Holy Family School (1710 Millwoods Rd E)

** Ask about booking private training sessions **

---
FOR CHILDREN'S KALI CLASSES CLICK HERE
---

---
** PRIVATE TRAINING sessions now available - call 780.439.8967 to book **
---

Our program:
www.FMA-Kali.com (Western Canada)
www.FB.com/Sayoc.Atienza.FMA.Kali.Canada

Mother Organization:
www.SAYOC.com (Global)
www.AtienzaKali.com

---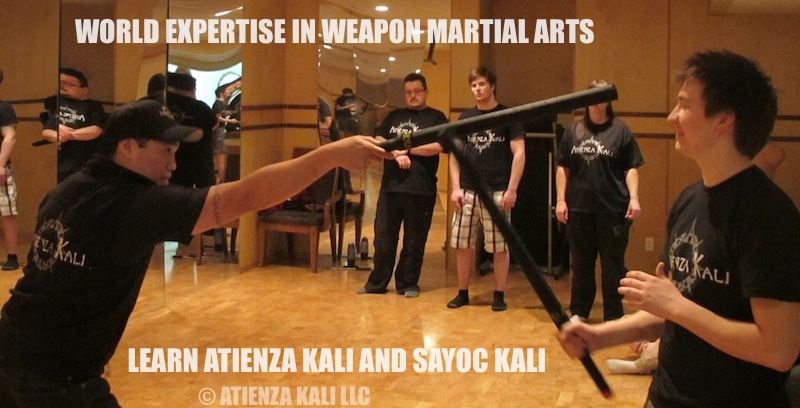 Tuhon Carl Atienza and instructor Tohler van Denderen private training ©Atienza Kali long blade tactics with other instructors in the background
---
#ONETRIBE
---
In addition to our regular programs
PRIVATE TRAINING CLASSES NOW AVAILABLE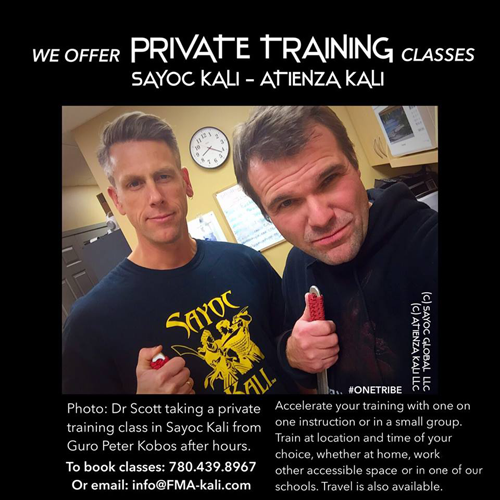 ---

Understanding, experience and ability to handle a real situation is paramount, along with expertise of what is taught and how, as well as the validity of the material.
** Head Instructor (Guro) is a former Police Officer with over 30 years of martial art experience, teaching programs in Edmonton Community over 26 years**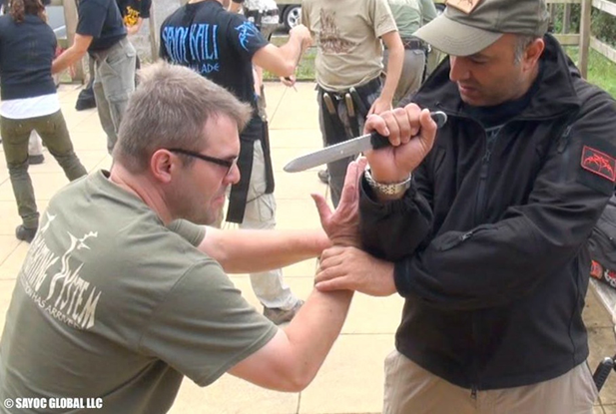 In England, Guro Krishna Godhania and Guro Peter Kobos training ©Sayoc Kali Transition Drills at European Sama Sama
Sayoc Fighting System, Sayoc Kali and Atienza Kali are family arts which has been highly evolved, passed through many generations of warfare and struggle. These particular unique kinds of Filipino Kali were previously closed to the public and have opened their doors during the last decade and a half. It is unlike anything people around here have seen before, as it is the most evolved, functional and effective weapon art system offered. Much study, research and development has gone into the content as well as how the art is taught for best results, skill development and learning experience.
Many martial arts list that their art is used in some capacity by today's modern warriors. However it is actually the instructors from our organization who currently and actively teach first hand at this present time these individuals, ranging from military to law enforcement, adding to our organization's legitimacy and recognition. It is the art of choice for elite groups serving in US military, Federal, State, and local law enforcement agencies, just to name a few of our practitioners. Many members from our organization compose of modern warriors from such professions due of the art's appeal.
Beyond learning various techniques, students are exposed to a world of information through teaching tools like scenario training, logical analysis of situation, awareness, psychology and countless other bodies of knowledge. Our curriculum has also evolved through and includes, law enforcement security mind set, protocols and procedures. Training this material makes a person more intelligent as well as better prepared for various areas of life. No question about it.
It was the Sayoc Kali organization who choreographed movie "The Hunted" (with Tommy Lee Jones and Benicio Del Toro), which gave the public their first exposure. Our talented master instructors had recently choreographed weapon fight scenes on one of the recently aired episode of "NCIS: LA".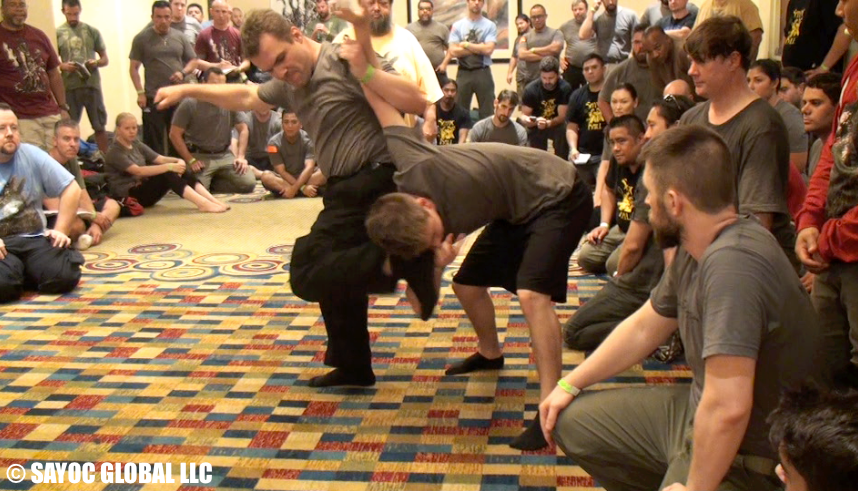 Guro Peter Kobos and Appr Instr Tohler Van Denderen in Los Angeles, demonstrating a Royal Guard set double bladed with sungkete in front of Pamana Tuhon Sayoc and Sayoc One Tribe
Many people join our group to simply learn a new skill set and soon discover the enjoyment of the activity as well as the comradery and atmosphere in class. It is very rewarding to learn such material and be able to become good at it. Benefitting and empowering students both physically and psychologically you will notice a change in yourself.
No previous martial art training is necessary - and no, you do not have to be in shape to join! This art and training methodology is unique as it does not contain many restrictions usually encountered in a sport oriented martial art environment, such as age, flexibility, or being limited by past injuries.
Our classes are very relaxed, friendly and family oriented, covering material of the highest caliber. We teach the civilian curriculum here in Edmonton, in order to benefit people of good character who have an interest in studying a Filipino Kali Weapons Art from functional and historical perspective. Classes will also very much benefit people who might encounter the worst case scenario situations in our beautiful city and would like to be able to successfully protect themselves, their loved ones or maintain safety in the duties of their profession if ever faced with an attack, including a weapon attack. The material has to work and be applicable. It is designed to save lives. All one has to do is pick up one of our local newspapers to find many reasons to train. Our Filipino Kali Weapons Art program is designed to introduce a beginner without previous background into our training. However, for those with experience, our curriculum is designed to seemlessly transition and complement any other past training an individual may have had.
Here in Edmonton, we have participants from all walks of life who cover a wide range, including stay at home moms, store owners, university professors, students, engineers, trade specialists, teachers, government workers, doctors, tech industry specialists, security / law enforcement as well as practitioners who had exposure to other martial arts. It is also perfect for family members (yes we have mother-daughter, father-daughter, father-son, mother-son teams) or couples since much practice is based on partner work. In a situation, there is a high probability that a significant other, family member or a friend might be present with you. Hence it can be beneficial to train together if possible. We tell couples: it is like ballroom dancing, without the dancing !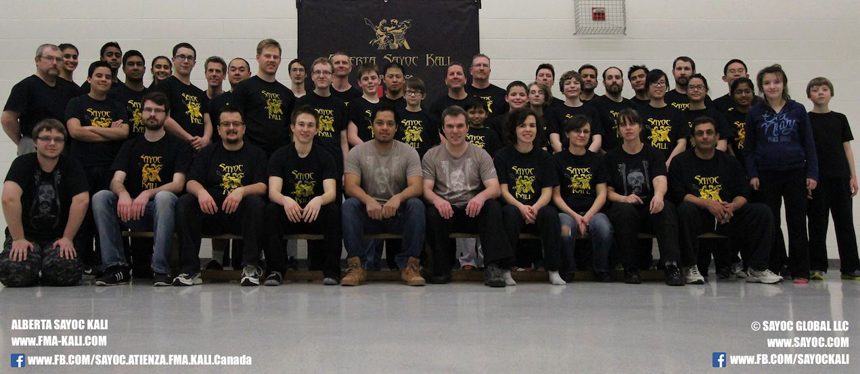 We believe in on-continuing education and support ongoing growth and development in our members. Multiple times a year we host seminars with Tuhon Master Instructors here in Edmonton for our students' and instructors' ongoing skill advancement. Our members represent Canada at international gatherings to join other instructors, experts and practitioners - in other words our brothers and sisters from our training families across North America and Europe in Sayoc Fighting System, Sayoc Kali and Atienza Kali.
---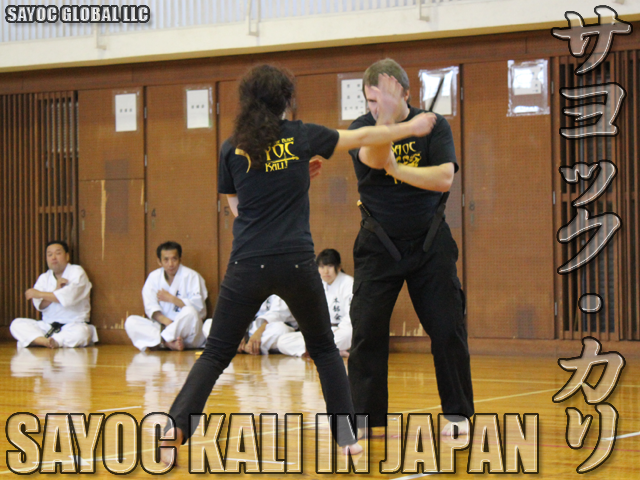 Our instructors from Canada were the first to demonstrate ©Sayoc Kali on Japnese soil in Saitama near Tokyo at the Budokan for the Motobu-kai martial arts event.
---
Other highly Recommended Martial Art Programs in Edmonton
---
LINKS
---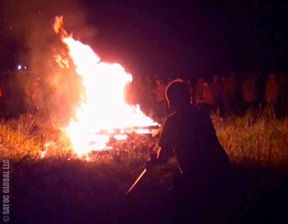 Sayaw warrior dance at Florida Sama Sama ©Sayoc Kali gathering
---
© 2011-2018 FMA-KALI.COM